A well-represented showroom can boost in-store sales if merchandising displays feature functional design, lighting and flow. This article will discuss ways to design your showroom to increase functionality and aesthetics using merchandising solutions that fit your business.
Whenever you design a showroom, your priority is to attract the customer. Designers use techniques that grab customers instantly. Your design should synchronize with your products. For instance, if you are selling high-end floor and wall tiles, it is best to use modern and elegant merchandising solutions, like the Marocchi Las Vegas Flexi Wing Rack tile display. Marocchi's Las Vegas Flexi Wing Rack allows for a combination of mosaic and large format tiles combined in a modern and functional display.

Lighting and Illumination Creates Inviting Atmosphere
Highlight your products and showroom by using accent lights and track lights. Lightning adds variety and aptitude to your items while giving the customer an idea of what the product might look like in different light.
It may be challenging to separate areas of a small store. To create space, use drawer units or libraries. These can be an excellent way to divide the room, showcase items, and provide an airy feel. Marocchi's Qubik Drawer Unit collection is an elegant way to showcase tiles or try the MC35 Library for a functional room divider.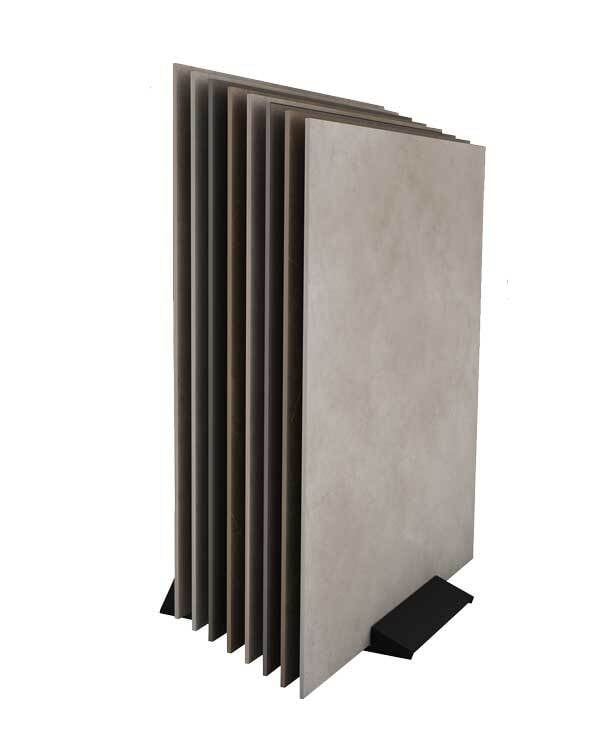 Free-standing displays are a perfect way to make the most of the room's wall space or open areas. We suggest the Culla Compact. Its compact design is lighter than any standard wood cradle and most comparable metal cradles but is able to display tiles up to 20MM thick, depending on the model used.
This revolutionary merchandising solution is available in three formats, Culla Compact 10, Culla Compact Large Format and the Culla Compact 20mm. Get the Culla Compact special promotional pricing here.
Creating Your Showroom Design
Concentrate on the product line and your target market. Make sure to build a uniform style with a specific emphasis and maintain consistent branding. If you are not sure what you need, contact us. We help create solutions for your showroom design. Our partner Marocchi offers custom and in-stock merchandising solutions. Don't miss out on the 200th Year Anniversary Celebration with special pricing and promotional catalog.
iTiles LLC is a brand ambassador and proudly represents the excellence of the European manufacturers for the North American building industry. Our partners offer excellence in Spanish ceramic and porcelain wall tiles, floor tiles, and Italian-made merchandising solutions. We are pleased to currently represent these extraordinary brands: Ape Grupo, Intermatex, and Marocchi 1821. If you are interested in stocking any of these brands or need showroom design solutions, contact us at www.itilesllc.com.